New Year Celebrations
Event Duration: Jan 29th ~ Feb 4th
Icon next to mini map
Festive Giftbag Rewards: Draw higher numbers to win better rewards. If you can't draw numbers, you will still win a consolation prize of 50 b-gold. Lv40+ players get 1 free draw each day.
Lv40+ players can also get 1 free [Red Packet] each day.
Protect Sky City from the Nian attack daily at 19:20 to win [Red Packet] and Nian Beast mounts.
Use 1666 Crystals for more draw
Festive Giftbag I
Mayan Jewel x 1 
Divine Equipemnt Box x 1 (Based on character level)
Festive Giftbag II
 Fiery Essence x 1 

Divine Equipemnt Box x 2 (Based on character level)
Festive Giftbag III
Divine Spinel x 1 
Divine Equipemnt Box x 5 (Based on character level)
Festive Giftbag IV
Lv 1 Skill Book I x 1
Lv 1 Skill Book II x 1
Lv 1 Skill Book III x 1
Pet Boost V x 1
Divine Equipemnt Box x 5 (Based on character level)
Festive Giftbag V
Gem Dye x 1
Lv 4 Jewelry Box x 3 
Divine Equipemnt Box x 5 (Based on character level)
Ancient Firedrake x 1 (30 Days) 
Mount Stone x 10
3,000 Gold
Nian Attack
Protect Sky City from the Nian attack daily at 19:20 to win [Red Packet] and [Nian Beast mount].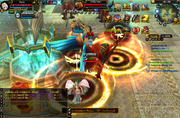 Pesky Nian appears in Sky City at 19:20
Event Duration: Jan 29th ~ Feb 4th
Kill the Pesky Nian to get drops.
Drops: [Fortune Pack] and Nian Beast Mount (7 days)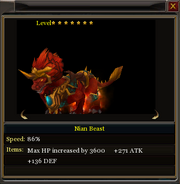 Note:  Opened 30 x [Fortune Pack]
​2 b-gold x 25
5 b-gold x 4
10 b-gold x 1
Festive Dumplings
Event Duration: Feb 13th ~ Feb 19th
NPC: N/A
Collect 10 [Festive Ingredients] from All world Monsters to make 1 [Festive Dumpling](Bound).
Max 20 [Festive Dumpling] each day.
Note: 10 * 20 = 200 * 7 = 1400 Festive Ingredients for this 7 days event.
Note: Opened 40 x [Festive Dumpling] (Bound)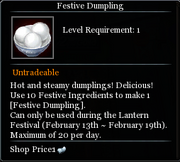 31 x EXP + 5 B-Gold 
4 x EXP + Sealed Tresure (Bound)
4 x EXP + 10 B-Gold
1 x EXP + 20 B-Gold
Festive Riddle
The light of the lantern illuminates the happy faces of the children.
Event Duration: Feb 13th ~ Feb 19th
NPC: Festive Lantern - Lantern Festival (Sky City 256 | 263)
Solve the Festive Riddles to win a surprise!
5 Chances per day (Rukia's Note: 3 Attempts per day, Couldn't do 5 times as NPC said)
Questions and answer according to IGG standard:
What is the name of the goddess of hearth? 3. Aplrodie 
What was the name of the final resting place for the honored heroes of ancient Greece? 1. Tartarus
Which Greek hero was dipped in the River Styx by his mother and later died when an arrow pierced his heel? Aristotle
What Greek philosopher taught his studnets by asking questions and later died of Hemlock poisoning? 1. Plato
What is a dramatic narrative that ends sadly called? 1. tragedy
Who is known as the "Father of Greek History"? Cronos
What mountain is believed to be the mythological home of the gods and goddess of ancient Greece? 4. /
What type of ancient paintings were found on the island of Crete?
What is the official language of Greece today? 2. Italian
What large Greek island is located between the Peloponnesus and the coast of Turkey? Crete
Where did the ancient Greeks perform their theaterical plays? 4. assembly
What is the current capital city of Greece? 4. Phillipi
The first Olympic games of ancient Greece were played in what god's honor? Poseidon
Who was the blind poet who created epics? Homer
What ancient Greek city state did not embrace direct democracy? Chios
What was the name of the Greek soldier that orginally ran from Marathon to Athens? Phidippides 
Reward:
10 B-Gold and EXP
Answering correctly: Star Student - You're a genius! (ATK +100, HP +500, for 1 hour)
Answering Wrongly: Cone of Shame - Shame on you! Time to hit the books! (ATK -50, HP - 100, for 10 mins)
Sealed Tresure Map (Bound) - Random
Redeem Valentine Gift
Event Duration: Feb 13th ~ Feb  19th
NPC: Aphrodite - Goddess of Love (Sky City | 320, 343)
Redeem Valentine Gift(Bound) with Aphrodite with 5 [Cupid's Chocolates] and 5 [Blooming Roses].
[Chocolates] and [Roses] can be gotten from dungeon card draws and monster drops in Medusa's Isle, Demon City and Frostseal Fortress.
You can redeem a maximum of 10 [Valentine's Gifts] each day.
Note: 5 * 10 = 50 * 7  = 350  each of the chocolates and roses in total for this 7 days event.
Note: Open 20 Valentine's Gift (Bound)
5 x 3 B-Gold
4 x 5 B-Gold
4 x 10 B-Gold
3 x Heart Sparkler
2 x Lv2 Jewelry Box (Bound)
1 x Lover's Gown (7days)
Valentine's Day Event Quest
Event Duration: Feb 13th ~ Feb 19th
NPC: Cupid - Agent of Love (Sky City | 319, 349)
Level 30+ players can complete the Valentine's Day event quest for fabulous rewards
Quest Target:
Travel to the Heart of the Holy Mountain bridge in Mt. Olympus and use the quest item - Romantic Fireworks.
Reward: EXP + 30 B-Gold